Servier Pharmaceuticals has remained grounded by its core values: care, dare to innovate, commit to succeed and grow by sharing.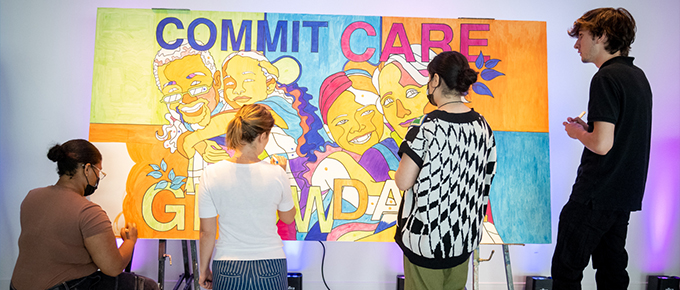 During Servier's Celebration of the Lab and Campus Opening in July, employees took part in a collaborative art piece with Artists for Humanity. The finished piece reflects what Servier is all about – its core values.
As part of Servier's commitment to partnering with local not-for-profit organizations, Servier collaborated with Artists for Humanity to create the art piece. Artists for Humanity is a Boston based non-profit organization whose mission is to provide under-resourced teens the keys to self-sufficiency through paid employment in art and design. Artists for Humanity completed the art piece and thoughtfully left a few sections for employees to complete during the celebration. The piece is colorful, vibrant, and is a wonderful display of Servier Pharmaceuticals.
In the words of Donna Vieraitis, Head of Human Resources at Servier Pharmaceuticals, "We were thrilled to partner with Artists for Humanity, a Boston organization with such an important mission of empowering young artists. The beautiful piece of art reflects the four values of our company, which is what drives the work that we do every day. It was very special for our employees to be able to finish the remaining sections of the piece and contribute to the important work of Artists for Humanity."
The finished piece will be hung up in the Innovation Café, the central hub of the newly opened office space, for all to enjoy and reflect on.